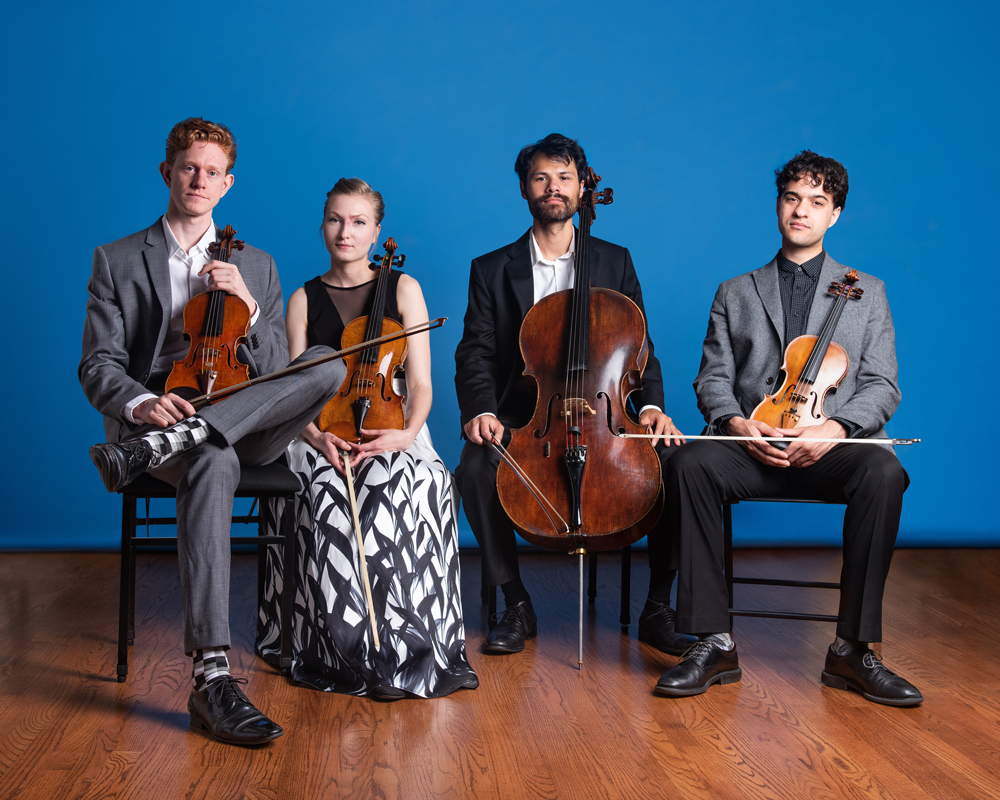 This concert is generously sponsored
by Gilbert and Linda Benavides
Friction Quartet
String Quartet
Saturday, April 4, 2020 – 7:30 p.m.
Friction Quartet, whose performances have been called "terribly beautiful" (San Francisco Classical Voice) and "exquisitely skilled" (ZEALnyc), has garnered international attention as commissioners and interpreters of new music, but the group also is devoted to performing masterworks of the string quartet repertoire. Friction is currently Artist in Residence at Napa Valley Performing Arts Center. They have also been Artist in Residence at the Center for New Music and San Francisco Friends of Chamber Music.
IMPORTANT CONCERT ANNOUNCEMENT
The New Mexico Department of Health has issued an order prohibiting "mass gathering" (defined as involving 100 or more people), effective March 12, 2020, and extending indefinitely.  In addition, the Village of Corrales has prohibited all public activities in facilities owned by the Village, which includes our concert venue, the Old San Ysidro Church.
Accordingly, we must cancel our March 14 and April 4 Music in Corrales concerts (Socks in the Frying Pan and Friction Quartet).  We will do our best to reschedule these wonderful performers for a future date.
In the meantime, however, because we have incurred some non-refundable expenses for these concerts, we would appreciate it if you would consider your ticket purchases as a donation to Music in Corrales.
If you desire a refund for the tickets you purchased for either concert, you may return your tickets to us no later than April 30, 2020, by mail to Music in Corrales, P.O. Box 2723, Corrales, NM 87048. We will process your refund by check as promptly as possible.
If you have other questions about the concerts, you may contact us at info@musicincorrales.org.
Thank you for your understanding and support in these difficult times.
Lance Ozier
President
Music in Corrales
Tickets may also be purchased at:
Frame-n-Art
3563 Corrales Road, Corrales, NM
1.4 miles north of Alameda Blvd. on Corrales Road
Behind Village Mercantile just south of Meadowlark
Cash, check or credit card accepted
Hours: Tuesday-Friday 10a-5p; Saturday 10a-4p